UAE is a perfect country for establishing a business due to the many business benefits the investors will receive. The strategic location of the UAE is highly beneficial for services and product companies to connect with the rest of the world easily. Free Zones are offering remote company registration in UAE for a wide range of business activities.
To list a few benefits for the entrepreneurs in UAE are – The convenient time zone, business infrastructure, transport network, lifetable, zero personal and corporate tax, ease of doing business, e-Governance, robust business banking network, and more.
How is Digitization helping Remote Company Registration in UAE?
UAE Government's mass Digitization of Government functionalities as part of the Smart UAE initiative has a positive impact on speeding up new company registrations.
Now you can easily set up a company in UAE remotely by sharing your passport copy and other company details with expert Business Consultants like AURION.
Our team will register a Company for you based on the business requirement shared at the lowest cost available in UAE.
There are more than 45 Free Zones in UAE offering various business license packages for setting up a business in the region. Most of the free zones in the UAE offer remote company registration. Hence, foreign investors can set up their companies without entering UAE.
Top Free Zones in UAE
For a Foreign Investor to open a company in UAE, the best options in terms of cost, infrastructure, accessibility, easy business setup; following are the options we have shortlisted.
1. Dubai Airport Free Zone
Dubai Airport Free Zone is one of the most prestigious Free Zones of the world and the No.1 VIP Free Zone in UAE.
There is a wide range of business activities available in this Free Zone. Multi-National Companies to Top Class Start-up have their base on DAFZA.
Dubai Airport Free Zone is located near to one of the world's busiest Airports and it is a perfect destination for international investors to easily visit you.
With a variety of office specifications and amenities, customized warehouses, robust business network, reputed company list, DAFZA stands out as the top-rated Free Zone.
2. IFZA Dubai
IFZA is a growing Free Zone in Dubai, co-branded with Dubai Silicon Oasis, it is a perfect location for start-ups, entrepreneurs, large and small companies to easily set up and scale up their business operations.
The Free Zone has one of the most cost-effective business license packages with a wide range of business activities to choose from. It also offers remote company registration in UAE.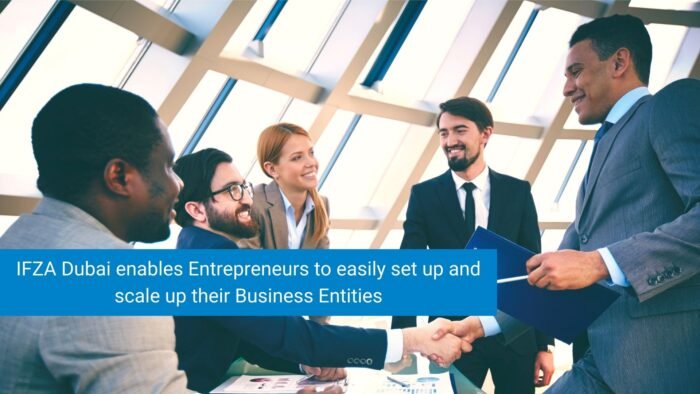 From software business licenses to General Trading, the Free Zones in UAE has it all to offer the investors.
IFZA offers multi-year license packages for entrepreneurs to save costs on the initial company set up and easily scale up the business.
To know more, read: IFZA Dubai
3. Sharjah Media City (SHAMS)
Sharjah Media City is a dynamic Free Zone in the UAE located at Sharjah. It is close to the Sharjah International Airport and a perfect business destination will well-connected transport links.
SHAMS Free Zone offers a range of business licenses for entrepreneurs of all business requirements. Also, the Flexi-desk, co-working spaces, shared desks, are ideal for start-ups and freelancers.
The fully customizable office solutions are ideal for small and medium companies to start their business operations in the region seamlessly.
What are the Deliverables for the Investors?
So, now what does an investor receive after remotely registering a company with any of the UAE Free Zones. Depending on the nature of the company and the shareholding pattern, the following company documents will be received by the investor as part of their newly registered company.
Certificate of Incorporation/ Trade License Certificate
Shareholder Certificate
Memorandum of Association, Articles of Association
Company Stamp & Lease Agreement
Establishment Card for sponsoring residence Visa
Corporate Bank Account Assistance
They can also apply for a UAE residence visa and emirates ID once they registered the company.
Add-ons for successfully running a company
Once you receive the company documents, to successfully run the business there are a few more certificates and approvals to be obtained. Following are the requirements to run a company successfully in UAE:
Chamber of Commerce Registration (fee applicable)
Customs Registration & Import-export code
Trademark Registration Certification
VAT Registration and Filing
Tax Residence Certificate
Economic Substance Regulation Filing and document submission
Any specific No-Objection-Certificates from Free Zone Authorities respective to the nature of business activity chosen.
AURION PRO's will effectively handle all the above tasks along with remote company registration in UAE seamlessly. So that you can focus on your core business. Reach out to our expert team to know more.
Corporate Bank Account Opening in UAE
Opening a Corporate Bank Account in UAE is an important step after receiving the company documents. UAE has a robust banking network with local and international banks.
There is a strict compliance process for the banks in UAE to ensure a streamlined transaction flow and curb any unauthorized payments.
Banks in UAE have specialized financing products & Services tailored for entrepreneurs and start-ups to easily start a corporate account with minimum documentation online.
To know more about assistance with Corporate Bank Account Opening and Setting up a Company in UAE, talk to our team right away!
Contact: Aurion Business Consultants