Offshore Bank Accounts are a good way of diversifying your investments and achieving global mobility. Of course, it helps you in tax savings to an extent. There are many countries that allow investors to open Offshore Bank accounts.
There is a myth that Offshore Bank Accounts are involved in money laundering. However, the fact is that Offshore Banking is a very effective financial tool for international investment. One can invest their wealth in the international markets for better returns and mobility of funds.
It is a 100 % legal activity in almost all countries in the world. World famous banks like Barclays, Lloyds, and Swiss banks offer Offshore Banking facilities for their global investors.
8 Popular destinations in the world for Opening Offshore Bank Account
Let's explore a few of the top Offshore Banking options available for organizations and High Net Worth Individuals. They can securely invest their funds and receive a better return than in their home country.
1. UAE
UAE is one of the prominent places for Offshore Bank Accounts. The economic stability and availability of world-class banking facilities make UAE one of the best offshore destinations in the world. Banks in UAE will open bank accounts in less than 4 days' time provided you submit the right documents.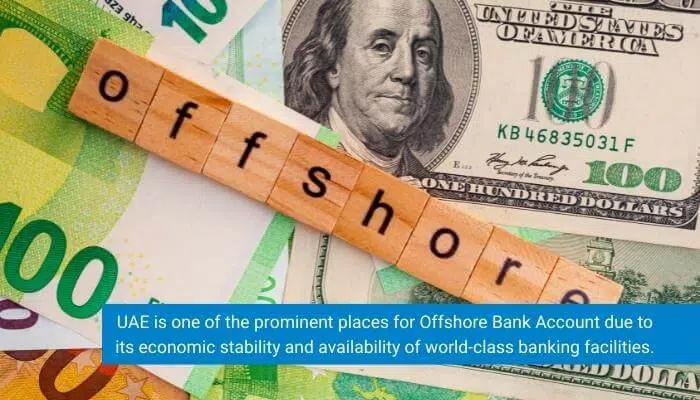 2. Mauritius
Mauritius is a leading financial center in Africa. The banks of Mauritius offer quick account opening with absolute confidentiality for offshore investors.
The World Bank's 2016 Ease of Doing Business Index ranks Mauritius as 1st among the African economies. It is also 32nd worldwide out of 189 economies in terms of ease of doing business.
Mauritius has grown into an attractive offshore jurisdiction for company formation. It has a growing economy and tax-saving benefits for offshore investors. The banks in Mauritius are well known for high-quality customer service and financial product offerings.
3. Georgia
Georgia is an ideal location for Offshore banking due to its political stability, tourist economy, and relaxed visa norms. The country offers the investors privacy and confidentiality of their investment. It is not bound by any international organization for information sharing of banking records. Hence, it remains an investor's favorite destination.
Also, compared to popular financial centers like Hong Kong, Singapore, etc., it is easy for opening a personal bank account in Georgia for a non-resident.
4. Cayman Islands
The Cayman Islands is one of the prominent locations for Offshore Banking. The Cayman Islands is a tax haven for its investors and has confidentiality clauses that protect the privacy of investors. Hence is a popular choice for investors.
It is recognized as one of the top 10 financial centers of the world. It is being backed up by a strong regulatory framework for its offshore banking services.
5. Switzerland
The Swiss Banks are one of the most reputed Offshore Banking destinations in the world. It offers confidentiality to clients. It is considered the safest possible investment due to the financially stable economic system in the country.
The Swiss financial regulations require all banks to maintain a minimum capital level. It is to ensure that all clients are paid in full amount for their holdings in case of any bank liquidation.
6. Singapore
Singapore is a protected financial zone. The stable economic and financial conditions are making it a stable place. The key advantage for the investors is the availability of highly qualified finance managers. They will invest the funds profitably to various legit funds the world to earn better results.
There is good connectivity to all major financial centers in the world from Singapore. Investors can enhance their investment portfolio through the assistance of the financial experts available in the market.
7. Germany
Germany is widely considered one of the safest places to save your investments. Financial stability and the safety protocols that German banks have to offer makes it a secure destination for investments.
The services extended by the German Banks are top-class when compared with other countries. The bank account opening is relatively easy in Germany. However, the paperwork is to be done right, and also there is a low account opening cost when compared with others.
8. Belize
The Banks in Belize offer some of the best protection and investment perks in the offshore financial industry. The Banks are required to maintain a minimum liquidity ratio of 24%. The interest rates average around 13% and the account can be managed online (Rates might vary – not exact figures)
Key elements to look for while opening an Offshore Bank Account?
Offshore Bank Account is essential for many business entities and high-net individuals residing in the UAE. It is a definite choice to diversify the investment portfolio.
There are certain key things when choosing your bank. It is to find a financial establishment that offers a tailor-made service based on your banking requirements. There are plenty of international banks operating in the UAE such as Barclay, Lloyds Bank, HSBC, etc.
Most High Net Individuals (HNIs) and Organizations look for 24-hour customer services support. They often face the challenge to get a dedicated relationship manager to manage their transactions in large international banks.
Secured private banks with great credibility will have a win here. They will have additional regulations and privacy protection factors. Also, improved customer service and secured banking transactions will raise confidence among investors.
Most organizations for the ease of coordination with their Offshore Banks partner with a financial advisory firm. The investor has to conduct a thorough background check to not fall for any dubious financial advisories. They must fix live/video meetings and check the authenticity and take wise decisions.
Few banks will have clauses to maintain a minimum balance and there could be charges associated with it. The charges could be at times way higher than the local banks. Also, depending on the tenure of investment, the investor must have clarity on the lock-in period for the bonds and fixed deposits.
Also, the investors must always look for the clauses in the account opening guidelines. There would be fines for not maintaining a minimum balance. The default charge levied would be often very high compared to local bank accounts. Similarly, the release of funds before maturity would attract charges or loss of the interest amount.
Why Offshore Banking is a popular investment tool in the UAE?
Offshore Banking is not for evading tax or hiding the wealth for HNIs. It is a very practical way of achieving international financial mobility for businessmen. It is ideal for individuals who are frequent travelers across the globe for various business meetings and tours.
The advantage of Offshore Banking is the wealth could be managed in multiple currencies. The investor can use the same bank account and not open multiple bank accounts in several different countries when required.
The Offshore Banking facility also allows for the setup of basic current accounts. The investor can handle everyday money, including salary transfers, and utility payments. They can also avail of other services like checkbooks, debit/credit cards, business loans, etc.
The simplest option to set up Offshore Bank Account is through your domestic bank if they offer the service. In most cases, offshore banks charge a fee for transfers to external banks. The interest rates would fluctuate as per global interest rates. The advantage of an Offshore Bank Account is savings in the dollar, pound, or any other international currencies as required.
The Offshore Bank Account will not be complying with local laws. However, is governed by the Offshore jurisdiction and Banking Laws of the particular country where the account is set up.
To know more about Offshore banking, feel free to reach out to our expert Business Consultants. Schedule an expert consultation here!