Startup Incubators in the UAE play an important role in supporting startups and freelancers to launch their businesses successfully in the UAE market. The Startup Incubator or Business Incubator provides the financial as well as technological and administrative support for the startups to scale up seamlessly.
So, the Startup Incubators in UAE are rising in popularity due to the demand from startups and entrepreneurs. Also, startup incubators are backed by the UAE Government's interest in providing a conducive business environment for businesses to thrive. Additionally, these business incubators provide a perfect platform for networking, mentorship, and investment opportunities.'
Furthermore, most of the Free Trade Zones in the UAE have a business incubator facility at their premises. It is for supporting startups and freelance entrepreneurs to test and launch their products and services in the region. Similarly, the Dubai Economy also associates with a list of authorized Business Incubators that support the growth of startups in the region.
Popular Business Incubators in UAE
Following are the most popular Startup Incubators in UAE. Furthermore, these Business Incubators are mostly part of the Free Trade Zones and are governed by the respective Free Zone Authorities.
Also, these Startup Incubators provide the perfect launch pad for entrepreneurs, freelancers, and startup companies. Startups can test, launch, and expand their business in the UAE, the rest of GCC regions, and even to international markets with the help of business incubators in UAE.
1. Dubai Internet City – In5
In 5 is managed by TECOM and focuses on startups in the fields of technology, media, and design. The business incubator provides facilities such as a perfect business infrastructure, mentorship services, networking events, and more.
Thus, the Business Incubator In5 is the perfect hub for startups and entrepreneurs in the UAE. It will also empower startups to develop, test, and launch their products in the market economically.
Also, the TECOM area is home to UAE's best IT Companies and large IT Corporations. Hence, the business will get good mentorship and collaborative projects through the Business Incubator's network.
2. Dubai Multi Commodities Center – Astro Labs
The Astro Labs is a dedicated startup incubator at the Dubai Multi Commodities Center for tech, media, and IT programming.
Also, the industry experts at Astro Labs provide mentorship and business advisory services to startups and entrepreneurs to effectively launch their products or services in the UAE market.
3. Abu Dhabi Global Markets – Hub 71
The Hub 71 is a startup incubator that is governed by the Abu Dhabi (ADGM), Mubadala Investment Company and other top tech companies head-quartered at the ADGM Free Zone.
The Business Incubator focuses on new technology development, energy-efficient practices, funding for green energy projects, and more. They provide startups with all the required business support.
4. Dubai International Financial Center – Innovation Hub
The DIFC – Innovation Hub is a dedicated Business Incubator for Finance and Technology companies. The Startup hub aims to attract new-age coders and Artificial Intelligence startups focusing on Financial Investments, FinTech, Payment Gateway Services, and other advanced Tech solutions.
The Dubai International Financial Center is the best place for finance companies, modern banking service providers, tech companies, and Artificial Intelligence companies to be present. The Free Zone is a growing startup and finance hub of the Middle East.
5. Dubai Silicon Oasis – DTEC
DTEC provides the perfect base for setting up a business or company.   The Free Zone offers a long list of business infrastructures for startups to easily scale up.
They have co-working spaces, dedicated office space, meeting rooms, testing labs, and more. All the networking sessions and live events from industry leaders make DTEC a hub for IT-related activities.
Apart from the Free Trade Zones, the Dubai Economy has a list of Certified Business Incubators such as the following
The Co-Dubai Incubator
Kind Incubator by Astrolabs
InnCuVation Spaces
Bedayat Incubator
British Centers for Business
GEMS Modern Academy
Concept +Incubator
AEIC's Incubator
Amity University Dubai's Incubation Center
All the business incubators provide similar kinds of support and advisory services to entrepreneurs. UAE aims to become a startup hub and a first choice for freelancers and entrepreneurs.
So, the business incubators provide all the required support and facilities for a startup to survive and achieve long-term sustainability.
Startup Incubator or Business Accelerator
There are Startup Incubators and Business Accelerators in Dubai, UAE. Often they are used interchangeably, but there is a functional difference in the scope of activities and support levels each of them offer to the startups and entrepreneurs.
The startup incubators help in developing ideas, pitching new products, offering business strategies for market expansions, and more. The Incubators and Accelerators offer advice, mentorship, and financing at different stages of a startup. An Incubator is for an early-stage startup to develop their ideas on a product or service, research and development, etc.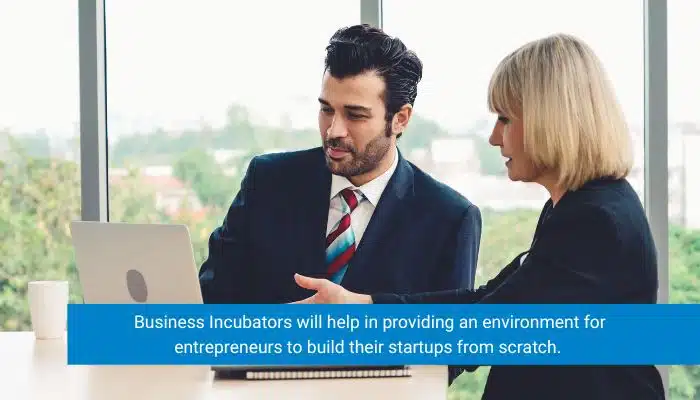 Business Incubators will help in providing an environment for entrepreneurs to build their startups from scratch. They will get a founding team and will develop a business model to achieve sustainability. Whereas, the role of an accelerator is to push the existing startups to sell their product and services more economically and generate real revenue out of the business.
The startups aim to grow and scale up faster. They connect with experienced mentors to fast-track their business launch and explore funding capabilities.
Benefits of joining a Startup Incubator in Dubai?
By being part of a business incubator, there are many advantages for startups and entrepreneurs. The business incubators will help early-stage firms implement their strategies, test products, and connect with other entrepreneurs.
A few of the business benefits from associating with a Business Incubator for a startup or freelance are the following.
1. Perfect Platform for Partnerships
There are a lot of opportunities for establishing short-term and long-term partnerships. The startup's success depends on the expansive network the founders are establishing during their business journey.
The business incubators have various programs to connect entrepreneurs with industry experts through events, training, panel discussions, and more.
2. Mentorship Services
The business incubators will help in gaining expert Mentorship for entrepreneurs. They can get access to industry leaders and experts and get clarity on achieving business excellence effectively.
3. Co-working Space
There are Co-Working spaces that offer Flexi-Desk facilities at very low cost. The investor can get access to the co-working spaces at very affordable prices.
4. Investment opportunities
The business incubator will provide the startups with easy access to funding houses and venture capitalists. They can receive appropriate funding for their business idea and easily turn them into reality.
5. Business Advisory Support
The investors can receive business advisory support from the Business Incubator which will be very helpful for setting up the company the right way. Also, there will be business advisory support at every stage of the business journey.
Hence, in a nutshell, Business incubators or Startup Incubators in UAE are an essential aspect for making the business journey of startups easy. The Free Zones in UAE have a Business Incubator to support the growth of the startup and also for funding, mentoring, and providing business infrastructure support to the new businesses.
To know more about the Business Incubators in the UAE, connect with our expert Business Consultants right away!
Contact Us: Aurion Business Consultants