There is a growing demand for Second Citizenship among UAE Expat investors. Citizenship by Investment Program is the most straightforward pathway towards obtaining a Second Passport from a country. Investors prefer certain countries for obtaining Second Passport to meet their business requirements, travel freely, and secure their family.
A Second Passport is becoming popular due to the benefits it offers to ex-pats. It is a perfect gateway for investors who wish to settle down in certain locations and avail visa-free travel to more countries.
Research suggests that a large portion of the affluent ex-pat population has applied for a Second Passport and have opted for the Citizenship by Investment Program
Popular Citizenship by Investment Program for Ex-Pats in UAE
Caribbean Citizenship by Investment programs is aimed at investors to easily obtain a Second Passport from the British Commonwealth Countries around the world. Following are a few of the sought-after Citizenship by Investment Program for ex-pats in UAE to follow.
1. Grenada
The popularity of Grenada is the ability to enjoy residence in the United States when they obtain a Second Passport from the Caribbean Country. It is a sought-after choice for entrepreneurs aiming at business relations within the US.
Highlights:
No of countries with visa-free/on-arrival access: 127
The cost of a second passport by investment is USD 200,000 contribution to Grenada's National Transformation Fund.
2. Dominica
Citizenship in Dominica provides full rights for the applicant for a sum of USD 100,000. It does not require the applicant to live in the country.
Highlight:
The cost of a second passport in Dominica by investment is USD 100,000 contribution to Dominica's Government Fund
No of the countries with visa-free/on-arrival access: 123
3. Antigua & Barbuda
This eastern Caribbean Sea island state is an investor paradise. The investors have to visit the island and need not move in to obtain the passport.
Cost: There are few funding options for the applicant here.
USD 250,000 contribution to National Development Fund
USD 400,000 investment into the country's government-approved project
Newly launched option for a family of four by making a financial contribution of USD 125,000
No of countries with visa-free/on-arrival access: 131 (including Schengen, UK, Singapore, Hong Kong, and more.
4. Saint Lucia
It is one of the economical Citizenship by investment programs. The applicant need not make any visit to the country, they have to set aside USD 100,000 as the cost of a second passport by investment and to get instant visa-free travel to over 100 countries.
Number of the Countries with visa-free. on arrival access: 128, including Schengen, United Kingdom, Singapore, and Hong Kong.
5. Saint Kitts & Nevis
This Caribbean island offers visa-free travel to more than 100 destinations worldwide and the investors need not relocate for obtaining a passport.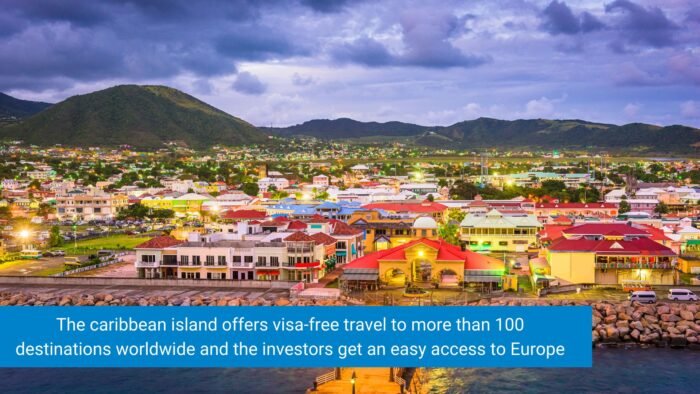 Cost: USD 150,000 contribution to the Sugar Industry Diversification Fund or a real estate investment of USD 400,000 in any of the government-approved projects.
No. of countries that offer visa-free/ on arrival access: 133, including Schengen states and the United Kingdom.
6. Portugal
Portugal offers a long-term residency card that investors can retain for 6 years before citizenship can be finally granted. The card is issued in exchange for an initial investment in real estate.
Cost: Initial investment of EUR 280,000 in property
7. Vanuatu
This Asia-Pacific Island is part of the Commonwealth and situated in the South Pacific to the east of Australia.
The Citizenship or second passport by Investment Program requires a fund of USD 130,000 into a local development fund.
There is no requirement for the applicant to visit or reside to retain the passport. This tax heaven is the new attraction for global investors with visa-free travel access to more than 130 countries.
It takes less than 60 days to process the passport and the Government has a strict regime for screening the applicant's background details.
Please note the list is not an exhaustive list and includes only a few of the popular programs currently active worldwide and popular in the UAE. Also, visa-free access to certain countries is subject to approvals based in real-time.
Growing Market Segment – Citizenship by Investment Program in UAE
The investment migration market was estimated at USD 21.4 billion in 2018, with a 23% CAGR if the same trend persists.
High net worth individuals from developing countries can send their children to top-rated high schools and universities across Europe and the US. Malta, Portugal, and the US seem to be stand-out markets in 2019. The Portugal Golden Visa program earned significant interest from investors in UAE.
Countries such as the Commonwealth of Dominica, St. Kitts & Nevis, Antigua & Barbuda, Vanuatu, are top choices for investors due to the low investment requirement, fast processing time, and visa-free travels.
Importance of Due Diligence
For all the Citizenship by Investment programs the applicant screening is very strict and thoroughly focuses on the reputation of the applicant, and the source of their wealth.
Certain nationalities could face a delay in the application process as the due diligence would be stringent to identify the source of funds and the criminal history of the individual applicant.
In a nutshell, the Citizenship by investment program is the quickest way to immigrate and obtain a new passport and residence. Large, the period for obtaining a second passport across various locations in the world varies from about 2 months to 8 months.
Alternative Routes to Second Passport
The Citizenship by Investment Program of various countries is not just by making a property investment.
It can be through donating a designated amount to a government fund, making fixed bank deposits, purchasing government bonds, fixed capital in approved business investments.
The Citizenship by Investment program is gaining popularity among the Expats in UAE due to the availability of a lot of options, investor-friendly packages, lower fund requirement than before, and ability to travel free-of-visa cost to more than 100 countries with family, etc.
To know more about Second Passport to the Commonwealth countries, connect with our expert Businessmen PRO Agents right away!
Contact: Aurion Business Consultants