Opening a Cafeteria in Dubai is a lucrative business investment. Though there is an umpteen number of cafeterias in Dubai, there is always assured footfall to a cafeteria due to the growing population density of Dubai.
The Food and Beverage sectors including mainly restaurants and cafes have witnessed positive growth rates over the years.
Despite intense competition in the sectors, those with a unique selling proposition and gaining customer attention will thrive ahead.
Dubai Mainland – The Ideal Business Jurisdiction for Opening a Cafeteria
A Cafeteria is ideal to be set up in Mainland Dubai, especially near residential areas or offices depending on the target audience, cuisines, store space required, etc.
To receive more footfall even popular tourist spots around Dubai would be ideal but will come at a higher cost compared to the one in a residential area.
It is the Department of Economic Development (DED) that issues the business license for the Cafeteria. It is a mandatory requirement to have a valid business license to start a Cafeteria in Dubai.
Setting Up a Limited Liability Company or Obtaining a Professional License
For opening a Cafeteria or Restaurant in Dubai by adding more shareholders to the business, the most common company structure chosen by most of the investors is the LLC Company Setup.
Also, for an LLC Company Setup, there is no more a mandatory requirement of a UAE National Sponsor (49% of Ownership) as a partner to your establishment. The new amendment in the Commercial Companies Law states 100% ownership in Mainland Companies.
Professional License is an Ideal Choice for Single Shareholder
If the investor is a chef by profession, a professional license can be obtained from DED to open a cafeteria in Dubai by single ownership.
The Cafeteria in Dubai is subject to approval by the Dubai Municipality- (Food Control Department & Department of Drainage & Irrigation).
Required Documents for an Individual Shareholder – Professional License from DED
Five (5) Proposed Names
Shareholder/s passport copies with visit visa/resident visa page
Copy of Emirates ID (for UAE residents only)
No Objection Letter from the sponsor on company letterhead signed and stamped (for UAE residents only)
Layout plan of the premises (shop of the rent is not less than 200 Sq.ft) – for Dubai Municipality Approval
Things to Know Before Opening a Cafeteria in Dubai
Ensure Food Safety and Get the Required Certifications
In Dubai, the Food Safety Standards are of international standards, and the authorities require detailed reports on food safety implementation and food safety management certifications to approve the business license.
ISO 22000:2018 and the Hazard Assessment and Critical Control Points (HACCP), and HALAL Certifications will add to the credibility and speed up the Cafeteria License process in Dubai.
Food Safety Requirements for obtaining a Cafeteria License in Dubai
Food Consignment release license from the authorities
Permit for Vehicles for transporting food products
Special Permit for handling and serving meat or any by-products
Location Requirements
The Cafeteria space must be meeting the following requirements to get approval from the DED.
Enough space to keep the required equipment
Proper waster disposal system and provision for timely disposals
Smoke detector placements and fitting of the smoke management system with an adequate number of fire extinguishers & fire alarm system.
Separate washroom and restroom facilities
Ample Storage Areas and Installation of fire-proof insulations in the walls, floor, and roof
Conduct pest control on all the equipment and space.
Separate Dishwashing area and kitchen facility with distinct areas for utensils, vegetable cleaning, & meat section.
Documents Required for the Approval of Cafeteria License in Dubai
1. Cafeteria Plan Details – Blueprint or Store Plan Stating the Following Elements:
Storage Space and Food Processing Area
Windows and Ventilation System
Entry & Exit, Emergency Exit ways
Washrooms, Restroom Space
Location of the washing area
Placement of equipment used to prepare food
2. Approval From the Food Safety Department in Dubai:
The initial Approval letter by the Department of Economic Development (DED)
The layout and plan of the premises
Approval from the Planning Department, if the cafeteria is located outside of a shopping center
Procedure to Obtain a Cafeteria License in Dubai
Choose the trade name for the establishment and get it approved by DED
Prepare the local sponsor / local service agent agreement for the cafeteria according to the chosen license category
Guidelines from the Food Safety Department must be met while choosing the space and setting up the cafeteria in Dubai
Obtain the tenancy contract and Ejari of the space
Submit all the documents to the DED
Apply for the No Objection Certificate (NOC) from the Food Safety Department and Approval from the Dubai Municipality
Submit all the approvals and supporting documents to the DED to get the business license to legally operate your cafeteria in Dubai
What is the Cost of Opening a Cafeteria in Dubai?
Opening and running a cafeteria in Dubai successfully involves a lot of planning, approvals, financial arrangements, overheads, investments, equipment setup, furnishing space, hiring staff, and many more.
Set Aside a Budget for Company Incorporation Process
Hence, a set budget has to be set aside for the company incorporation itself. That includes the License fees, approvals, certifications, office rent, initial investments, etc.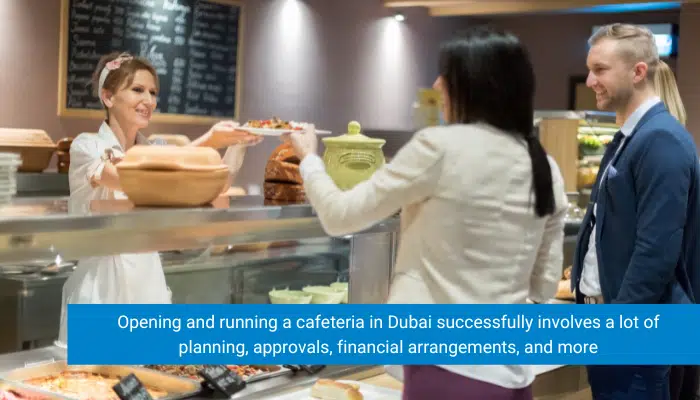 Again, the cost of setting up a cafeteria in Dubai varies depending on numerous factors. Broadly, the company set up fees can be split across the following areas:
(Note: this is not an exhaustive list and there will be more cost headers in actuals)
Government Fees
Trade Name Reservation
Initial Approval Fees
Memorandum of Association Typing & Translation
Memorandum of Association Notarization Fees
Ejari Fees (Tenancy Contract Attestation)
Trade License Fees
Sponsorship Fees & PRO Services Fees
Immigration Card Fees
Company Stamp
Additional Cost:
Market Fees (2/5% of Annual Office Rent)
Labour File Charges
P.O. Box Rental
License Amendment fees (if any)
As a new entrepreneur in Dubai venturing into the Cafeteria business, it is advisable to consult with an experienced business consultant.
Why Choose a Business Consultant for Setting up a Cafeteria in Dubai?
There are a lot of procedures involved in securing your business license to start operating the cafeteria in Dubai.
Doing it all Single handed would tire you at the start itself. Hence, avail of the customized Business Setup Packages offered by Aurion Business Consultants.
Experience a hassle-free setup of your cafeteria and obtain your trade license at the quickest time and lowest cost.
Connect with our expert Business Consultants right away to know the Procedures for opening a Cafeteria in Dubai.
Contact: Aurion Business Consultants