The Most Booming Businesses in UAE for 2022
- List of Businesses Global Investors can Start in UAE
The Most Booming Businesses in UAE for 2022
UAE is one of the most booming locations for business. 2022 is a year of revival for most of the business sectors globally. There are numerous booming business sectors in UAE.
It is driven by the steady demand from the B2B and retail customers. The Business landscape in the region is evolving constantly to address the growing demand from the international markets.
Businesses in UAE are operating in full swing to meet the requirements of customers in both business and consumer segments. There is a solid growth projection stating a rise in entrepreneurship and new shop openings for the year 2022.
Booming Business Sectors in UAE
Here are some of the booming business sectors in UAE for 2022. The business landscape of the UAE is constantly transforming with new infrastructure, technology, and government support.
The Free Zones play a vital role in shaping up the business ecosystem and infrastructure in UAE. Foreign investors prefer the Free Zones to set up their companies due to numerous business benefits. The Free Zones offer:
100% foreign ownership
Friendly taxation policy
Full profit repatriation
World-class infrastructure
Easy business setup, and more.
Industry Sectors that are on a boom for 2022 that investors can focus on are the following:
1. IT Solutions
The IT Sector in UAE is on a boom. There is a constant upgrade in technology and new IT solutions every year. UAE is at the forefront of technology adoption. It is one of the best business sectors for investors to put their money in and start a business.
IT sectors have many domains including software development, IT Solutions, Hardware sales, IT Maintenance, Cyber Security, Cloud & Data Management, and more.
The companies in UAE are always on the look to partner with the best IT Provider for revamping their business processes and achieving higher business growth.
Free Trade Zones – Perfect Choice for IT Solution Providers
The Free Trade Zones are the perfect choice for opening an IT Solutions business. They offer the perfect business ecosystem and networking opportunities for entrepreneurs in the IT field to collaborate and work together on specific projects.
Investors can start an IT solution business in Dubai for AED 17,300 for a One Visa company. The Free Zones provide all required business infrastructure and amenities for the investors to easily scale up their business venture in UAE.
2. eCommerce
eCommerce is another area that is observing a significant growth rate in UAE over the years. The eCommerce ecosystem in UAE is becoming more robust and there is a growing requirement for more service providers in this sector.
The ecosystem is expanding with the addition of more eCommerce platforms, secure payment gateways, efficient logistics and delivery services, etc. The eCommerce sector in the region is witnessing a boom over the past few years.
As a whole, the eCommerce sector is a prospective business investment for foreign investors. There is immense opportunity in the eCommerce business sector.
Dubai CommerCity – A Dedicated Free Zone for eCommerce Business 
In Dubai, there is a dedicated Free Zone for eCommerce business operations, the Dubai CommerCity. It is located in proximity to the Dubai International Airport making it easy for the goods to transport in and out of Dubai easily.
The Free Zone has a wide range of Warehouse spaces specifically catering to the eCommerce business segment. The Warehouses are customized for foodstuff trading, cold storage, perishable items, general trading goods, and more.
Similarly, there are numerous Free Trade Zones in UAE offering eCommerce licenses for investors. The investor can choose the respective Free Zone depending on the required business activity, budget, location preference, logistics support, etc.
3. Real Estate
Real Estate in UAE is a popular business category that offers an immense return on investment for investors. There are various business activities in the real estate sector.
A few of them are residential and commercial rental & leasing of units, buying & selling of real estate units, property management, facility management & maintenance, and more.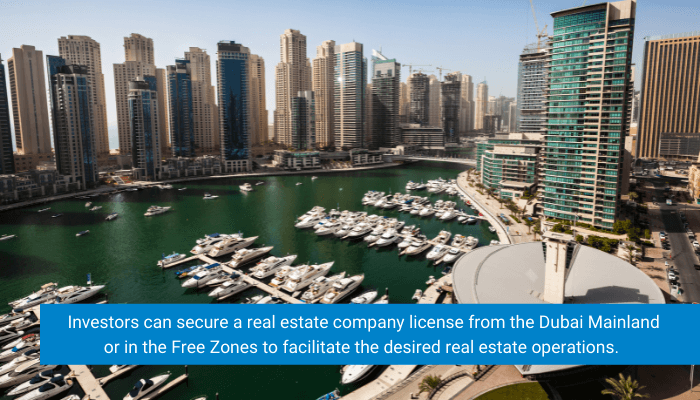 Investors can secure a real estate company license from the Dubai Mainland or in the Free Zones to facilitate the desired real estate operations. Depending on the selected business activities, the trade license will be issued by the respective licensing authorities.
4. Construction
Consultancy in Dubai never stops, every year there will be new multi-million projects launched in Dubai to target tourists, high-net-worth individuals, business investors, and more.
A large volume of projects is commissioned, delivered, started in UAE every year over the years. The construction sector in UAE is made up of a well-established ecosystem with builders, developers, contractors, engineers, suppliers, support services, and more.
Hence, on the business front Construction sector is a high-volume investment sector. There is a huge capital requirement for the investor depending on the scale and scope of the construction project.
Construction companies are registered in the UAE Mainland to facilitate large volume business operations, hire numerous staff, get a warehouse, finance large projects, and more.
5. Consultancy Services
Consultancy Services are the most popular business license category in UAE. The professional License is one of the most issued in the mainland and Free zones.
Entrepreneurs can start their business operations across a wide range of business activities such as business management, finance management, customer support services, training & education, business strategy management, and more.
Foreign investors prefer Free Trade Zones for setting up their consultancy office due to the reduced cost, attractive Free one packages, and access to networking opportunities within the Free Zone and beyond.
Hence, in a nutshell, UAE is home to a growing business ecosystem and there are numerous business sectors in the Country that provide immense opportunities to investors. There is an ever-growing demand for new businesses in almost every sector due to the large target audience available in UAE.
To know more about the Business Developments and Prospective Business Sectors in the UAE, Talk to our business consultants right away!
Contact Us: Aurion Business Consultant