UAE is an investor-friendly destination with world-class business infrastructure, banking facilities, business ecosystem, political stability, improved lifestyle, and more.  Bank Account Opening in UAE is the next important step after the successful company incorporation.
The robust banking network in UAE enables companies to effectively run their business operations by quickly transacting funds, receive invoice amount, pay suppliers, and utilize the numerous banking services and benefits.
Aurion majorly works with the following Business Banking Partners in the UAE to facilitate the opening of a Corporate Bank Account for all our clients. Our team of expert Business Consultants guides the investors to the right Banking Service Provider by analyzing the business requirements.
Bank Accounts and Services in UAE that are highly beneficial for Entrepreneurs
1. Emirates NBD
Emirates NBD has a Business Banking Package exclusively for clients who maintain an average deposit of at least AED 50,000*.
This Banking Service Package is ideal to support business day-to-day needs and a low level of deposit requirements.
Note*: If the monthly minimum average drops from AED 50,000; a small penalty will be levied.
Benefits
Multi-currency Account ( USD, EUR, GBP)
Access to smart business online platform for effectively tracking and managing the transactions
Dedicated Call Center Support for answering all queries.
Wide range of Branches, Cash Deposit Machines across the UAE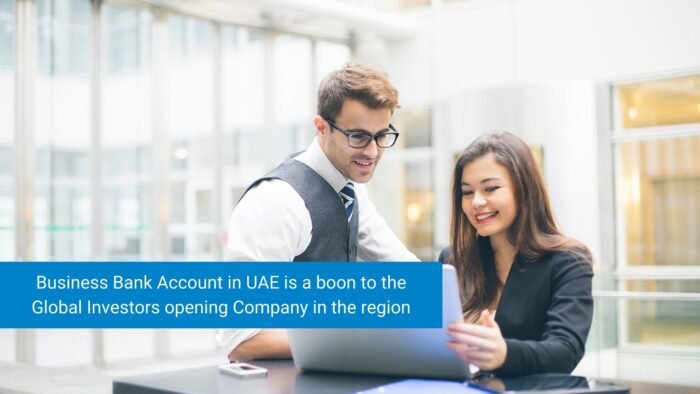 Bank Account Opening in UAE
1. Business Banking Plus
Business Banking Plus is an ideal choice for investors who maintain average deposits of at least AED 200,000.
This financial product has a set of additional benefits for the investors like:
Dedicated Relationship Manager for answering all your queries
Competitive Foreign Exchange & Telegraphic Transfer rates.
Unlimited free checkbooks
special rates on deposits and investments
Discounted or Free charges on daily transactions
Priority access to all banking services during branch visits.
Note* If the monthly minimum average drops from AED 200,000; an amount will be charged as penalty.
2. Business Banking Select
For Investors who maintain average deposits of at least AED 500,000*. The premium business banking Package offers a host of value-added banking services.
Key Benefits
Competitive Foreign Exchange rates and Telegraphic Transfer rates
Preferential rates on Trade Services, deposits, and investments
Free or discounted charges on daily transactions
Corporate events to help business
and free access to a lot more value-added services
Note* If the monthly minimum average drops from AED 500,000; monthly an amount will be charged.
Corporate Bank Account Opening in UAE
To know more about eligibility and documents required for various banking requirements visit the Emirates NBD website.
2. Mashreq Bank Neo Biz Account
Mashreq Bank has a tailor-made Corporate Business Account for SMEs and Entrepreneurs. The account opening process is seamless through the Mashreq Bank Website or the Mobile App.
Investors can choose from the three business banking accounts. The most popular package is the Basic with a no minimum balance, low monthly maintenance fee, and a host of other benefits.
Then there is an advanced corporate banking package with an AED 50,000 average monthly balance, no monthly maintenance fee, etc. It is an ideal choice for small businesses that require financial support to scale up the business effectively.
Document Required for Opening Neo Biz Account
Trade License Copy
Memorandum of Association
Board Resolution or Power of Attorney – provides authority to open and operate bank to managers/directors
UAE address proof
Identity Documents of Owner and Signatories- Passport, VISA, Emirates ID
Any supporting documents as requested by the bank (supplier, buyers, and business details, invoice copies, etc.)
3. RAK Bank Business Account
RAK Bank has a customized account for business owners and entrepreneurs termed the RAK Business Starter Account.
The account opening is a simple two-step process. There are few documents required before you begin the process.
Documents Required for the RAK Starter Account
Company Trade License
Investor or Signatories Passport and Visa Page Copy
Copy of the Emirates ID of all signatories
Board Resolution, share certificate, power of attorney to authorize the manager/director to operate and manage the account
Supplier and buyer details, nature of the business, Shareholder/Investor profile, expected annual turnover
Any supporting company documents as a request by the bank personnel (Memorandum of Association, Articles of Association, Share Certificate, Partners/Service Agreement, etc.)
All the above documents need to be uploaded along with the application form online (RAK Bank Website).
Once the application is through, the bank personnel will review the profile and once the Know-Your-Customer (KYC) Compliance is met, the account opening will be processed.
The bank official will meet the entrepreneur to discuss more the product offering and take the authorized signature of the investor/signatory.
4. Banque Misr
Banque Misr one of the most popular Banks in Egypt is expanding its presence in the UAE by opening a new branch in Dubai and the UAE headquarters.
The Bank aims to provide financial products to entrepreneurs. SMEs and investors to scale up and sustain their business easily.
Bank has a wide range of Microfinancing and small-medium enterprise finance options ranging from 5000 EGP to 500,000 EGP catering to the various range of business investments.
Documents Required for Corporate Bank Account Opening
A copy of the trade license
Investor personal profile and identification documents
Recent utility bills and existing bank account details
Copy of tax residence certificate
Last 3 months bank statement and transaction details of the company
Copy of last insurance payment receipt (not less than 3 months)
Any other supporting documents as requested by the bank personal.
Explore the Banque Misr website to more about their financial products.
To know more about Corporate Bank Account Opening in UAE, connect with our expert team right away!
Contact: Aurion Business Consultants